Avoid phishing, smishing, vishing, and other SCAMS!
Criminals constantly try to steal individuals' personal data. They pretend to be with legitimate organizations that people know and trust. Perhaps a bank, retail store or even the IRS. Scammers threaten "you are a victim of fraud" to steal your personal data.
Common tricks:
Phishing- fake email which often displays a well known logo
Smishing- official looking test message that seems legitimate
Vishing- bogus live phone call, "robocall" or voicemail
More examples:
Lottery Scams- To claim your winnings, you must pay taxes and fees. A fake check is sent. You are asked to cash it. Then wire back payment. They steal your money. You are responsible for the bad check.
Grandparent Scams- Scammer hacks someone's email account. Fake emails sent to relatives- claiming grandparent is stranded abroad> needs credit card information.
Employment Scams- Fake ads claim to be hiring people to work at home. You are hired and receive a bonus check to start. You are asked to pay "account activation." Scammers hope to get your funds before their check bounces.
Tips to Help Prevent Identity Theft
Your financial institution

will never call you to request

information you received via text (SMS) or pressure you to reset your online banking log in password.
Don't trust caller ID;

Caller ID may be modified

to show your financial institution's name.
Don't

provide your online banking log in credentials, one-time password, account number or personal information

by email or text or phone call. Using their published phone number, reach out to your financial institution to confirm that the request is legitimate.

Don't give information over the phone

if you receive a call stating that a transaction is canceled, even if the caller claims to be from your financial institution. Once again, contact your financial institution using a published phone number to inquire about the transaction.

Don't click on links

in unsolicited emails or texts.
Don't give an unsolicited caller

remote access

to your computer.
---
Protect Yourself
Here are some things you can do to protect yourself:
Protect your Social Security, bank account, and credit card numbers at all times. Also be careful with your PINs and passwords.
Never provide confidential information in response to a phone call, letter or an email no matter how friendly or official it appears. These scams are called "phishing."
Don't throw away old ATM or credit card receipts, bank statements or tax returns without shredding them first. Thieves pick through trash bins looking for trash they can turn into cash.
Guard your mailbox to protect confidential information sent to you. Pick up your mail as soon as you can. When mailing a check, put it in a postal service mailbox. Don't leave it for a postal carrier to pick up.
Never provide financial information when visiting a website unless it clearly explains how your personal information is protected.
Before disposing of an old computer, erase files that contain financial records, tax returns and other personal information.
For more information on Identity Theft Prevention please view the video tutorial below.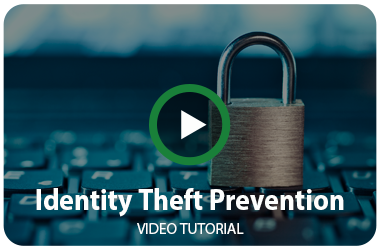 ---
Information Compromised?
If you suspect your information has been compromised, you can contact the major credit bureaus listed below and they can place a 1 year Temporary Fraud Alert (or Active Duty Fraud Alert) on your credit report for free. A 7 year Extended Fraud Alert can be placed on your credit report with a police report. You can also renew the alert for free.
Security Freeze or Credit Freeze
A Security Freeze (or Credit Freeze) can be added to any credit report with each credit reporting agency for free. The Security Freeze will prohibit any new third party relationship from accessing an individual's credit report without their consent (until the individual requests a temporary lift or its removal).